Life on a Winter Vacation Scheme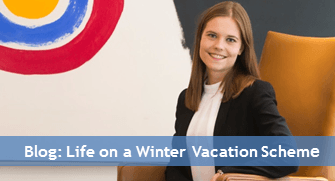 by Kinga Porejska - Trainee
During my time on the winter vacation scheme, it was great to obtain a first-hand experience of life as a trainee at Shearman & Sterling. I was able to attempt a variety of different tasks for a range of lawyers, and I also got the chance to take part in various seasonal activities. After all, it is the winter vacation scheme so a cheerful spirit and festivities permeate throughout. You may see mince pies replace the famous cookies at meetings, and Christmas jumpers being worn to raise funds for charity. We also got taken ice skating by the trainees as an impromptu extra social event!  This year the winter vacation schemers will even get invited to the firm-wide Christmas party.
As the year reaches its end the office starts buzzing with activity as teams strive to complete their matters. As a vacation scheme student this allows you to gain a real sense of how exciting working at the firm can be and a realistic view of how demanding clients can sometimes be. Overall, it is an invaluable experience for anyone who is considering applying for a training contract.
You may have heard at Shearman & Sterling you're offered the chance to get involved in high profile global deals. This is true, and for me, it was the quality of the work undertaken, and the prospect of working on genuinely interesting transactions which triggered my interest in Shearman & Sterling.
What I found exceptional about this, is having early responsibility on transactions and being an integral part of the team right from the start. I thought that this, combined with the supportive and collaborative firm culture, would mean that I would enjoy being a trainee. In autumn, I spoke to Shearman trainees and was impressed by the passion with which they described their experiences of working at the firm. So when winter vacation schemes opened for applications, I was looking forward to seeing what it is like to be a trainee at Shearman & Sterling.
Why I accepted the training contract offer
I truly enjoyed my time at Shearman & Sterling and was impressed by the excellent quality of work, the lawyers I spoke to and the outstanding training provided. It is why I came to the conclusion that by accepting the offer, I would enjoy being a trainee and I would be best equipped to become a commercial solicitor.