Blog: Surviving the LPC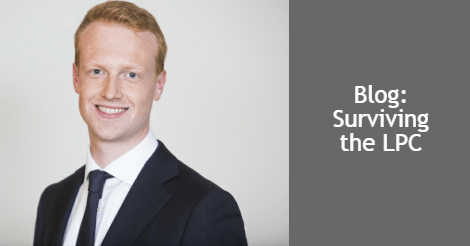 About Me:
I completed my undergraduate degree at the University of Warwick, studying European Law with a year studying French law in Paris. After graduating in summer 2015 I commenced the LPC Msc at the University of Law's Moorgate campus with the rest of the Shearman 2016 trainee intake.
A shock to the system!
The LPC is very different to an LLB. There's far less emphasis placed on research, discussion and analysis. Instead you're given comprehensive textbooks that contain all the material required to pass the course. Contextual discussion and finding a different approach to an idea or a problem at undergraduate level is highly encouraged, with many questions not having one correct conclusion. On the LPC however, there is always a solution and it's simply a case of following the correct process to reach it. The LPC does not want a list of case law justifying your solution. I found it quite difficult to adjust to this approach at first. There are no prizes for originality or finding obscure case law on the LPC - follow the process, state the solution and get onto the next question or you'll run out of time!
Law in Practice
The LPC is very focused on the procedural elements of law: how companies take decisions, how a trial takes place and the progression of a real estate transaction all feature heavily on the course. Knowledge of the underlying law is assumed at this stage - it is now a case of applying it to an example. For example:
Undergraduate Contract Law - Consider the elements of a breach of contract
LPC Contract Law - Apply legal knowledge to a set of facts, much like a problem question, but then go on to fill in the claim forms and understand how to practically take the matter forwards.
Form-filling on the LPC involves a lot of (sometimes tedious) procedural considerations, such as the correct way to initiate proceedings and calculation of dates when next steps can be taken. Although sometimes it may feel a bit dull, knowing how to do these things perfectly is integral to being a trainee!
Post-graduate expectations
The LPC also differs greatly from an LLB in its pace. Although law degrees can be intense, there is always an opportunity for reflection and the chance to recap any material that may not have been understood first time round. The LPC progresses quickly, without reading weeks or long breaks before exams. It's really important to keep on top of the course as there is no long holiday before exams for cramming!
Surviving the LPC
As a Shearman future trainee I could rely on the rest of my cohort for revision sessions and socials.  We also have a buddy who's a current trainee who could help me keep my eye on the goal and set context as to why the LPC is so important.  If you're an un-sponsored student, make sure you build a strong network and don't get too overwhelmed.  If you're seeking a training contract you should be aiming for top marks so get your head down and good luck!