5 minutes with Edd Rarity, Future Trainee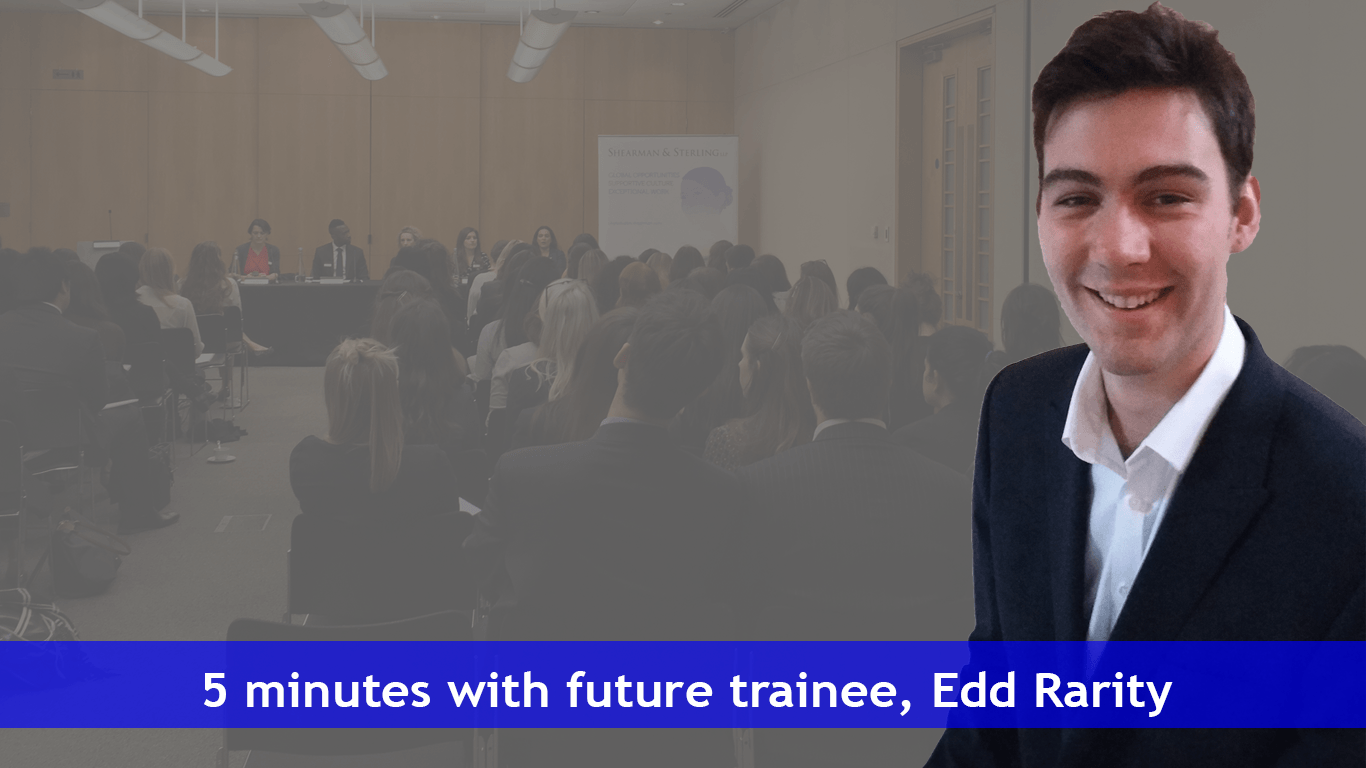 Q: What University did you attend?
A: University of Oxford (St John's)
Q: What subject did you study?
A: English Literature
Q: When do you join as a trainee?
A: I'll be joining in August 2017!
Q: How did you hear about Shearman & Sterling?
A: I first heard about Shearman whilst doing my preliminary research about U.S. firms. During the research, a friend sent me a link to www.rollonfriday.com, a website which surveys lawyer satisfaction and lifestyle within firms. I was surprised to see that Shearman, one of the supposedly 'hard-nosed' U.S. firms with top rankings in high-pressure transactional seats, had topped the list.
It was a strong and positive first impression.
Q: What made you apply?
A: I had a clear idea of what I wanted from my training contract.
Firstly, I wanted a smaller, more personalised training scheme without compromising on high quality work. Secondly, I wanted a firm with a highly personable culture, where trainees' personalities and welfare weren't left at the door.
Shearman offered both.
Q: How did you approach the initial application form?
A: Firstly, I pooled all the resources available to me, including the Shearman Graduate Recruitment website and third party websites such as www.chambersstudent.co.uk. These are crucial to knowing as much about the firm – and its competitors – as possible.
Secondly, I made a very clear list of what I wanted to communicate on an application form: both why I wanted to train at Shearman, and what I had to offer. Having these two structures in place allowed me to answer the questions confidently and concisely.
Q: What made Shearman & Sterling different to other firms?
A: Shearman combines all the facets of a powerful city law firm – top practice rankings, international scope, newspaper-worthy deals and big name clients – with a culture that is distinctively human and honest.
For me, there was little point working at a top city law firm if the culture was cold and isolating: I wanted to love my job, not endure it.
My Shearman final round interview keenly demonstrated the firm's approach. After 15 minutes of questioning, the partner asked to me to interview him for the remaining 45. Despite momentary blind panic, I realised this was a chance to really quiz a partner and associate on their careers and the firm. Their answers were well-humoured and disarmingly honest, and they were keen to develop my own personal interests, such as the firm's practice in the Middle East. I left the interview beaming.
Q: What made you accept?
A: I attended an offer holder's meeting and sampled the famous Shearman cookies – but in truth my mind was already made up.
Q: What advice would you give to others who are interested in Shearman & Sterling?
A: Think deeply about what you want from a training contract and ultimately a career. Identify what practice areas you're interested in, and what geographical areas you are keen on. Use your university and school experiences to determine your personal strengths and preferences. Shearman is renowned for international transactional work: be honest with yourself about whether this is the kind of work that suits you.
Being inside the Shearman building is a chance to see the firm at its best, so apply to an Open Day or Vacation Scheme. However, don't despair if you haven't done one of these: I applied straight for a training contract, and it worked out well for me!