5 Minutes with future trainee, Nicole Chatrath
12th December 2016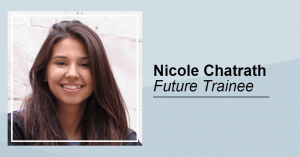 Q. What University did you attend?
University College London (UCL)
Q. What subject are you studying?
I studied European Social and Political Studies, which combined International Relations, Law and Italian. I am currently completing the Graduate Diploma in Law (GDL) at the University of Law.
Q. When do you join as a trainee?
I'll be joining in August 2018.
Q. How did you hear about Shearman & Sterling?
I first met the graduate recruitment team and some trainees from Shearman & Sterling at the Bright Network Festival.
Q. What made you apply?
There were several reasons that made me apply to Shearman & Sterling. I knew I preferred a smaller trainee intake because I wanted a Training Contract where the trainees were valued individuals and were given responsibility early. In addition to Shearman & Sterling's excellent reputation in its practice areas, I was further inspired to join the firm after having attended the Women in Law Conference, where I encountered its open, encouraging and friendly culture.
Q. How did you approach the initial application form?
Before beginning my application form, I made sure that I was clear about why I wanted to work for Shearman & Sterling and what skills I had to offer. After having completed my research, I ensured to illustrate my unique skillset and how it could benefit Shearman & Sterling.
Q. What made Shearman & Sterling different to other firms?
For me the difference between Shearman & Sterling and all other firms was the culture. In addition to being renowned for the excellent quality of work, the firm also possesses a distinctly human work culture.
Q. What made you accept?
One of the main factors that made me accept Shearman & Sterling's Training Contract offer was that I could imagine working here for a long time. Having seen examples of Shearman & Sterling's commitment to the development and encouragement of its employees, especially women, I felt that this was the kind of firm I could imagine having a long-term career with.
Q. What advice would you give to others who are interested in Shearman & Sterling?
My best advice would be to understand in depth the attributes that make you stand out from the crowd. In addition, I would encourage extensive research on the transactions and cases Shearman & Sterling is currently involved in and aim to get an understanding of the firm's long-term strategy and vision.
Share this: