International Secondments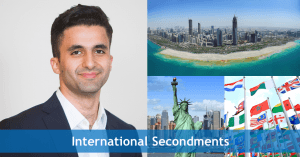 by Omar Alkaffas
Benefits
One of the many advantages of training with Shearman & Sterling is the opportunity to spend six months on secondment to one of our international offices. Currently, we have abroad seats in Antitrust (Brussels), Capital Markets (New York), Finance (New York), International Arbitration (Abu Dhabi), and Project Development and Finance (Abu Dhabi and Singapore).
Typically, following a first seat in the London office you can rotate into an international office in your second, third or fourth seat. Given the small intake size, and several rotation options, the firm is often able to accommodate your preferences as to department and location. One of the notable qualities of Shearman & Sterling is the seamless integration of teams across our offices, as such you will be working within a team in the office to which you are seconded but will equally be a part of the global team across all of our 20 offices.
Adapting
The firm is truly supportive during the relocation process and effectively you can log off in London on a Friday afternoon and login from your new desk in a new country on Monday morning, but you are given relocation days which most tend to take as a chance to settle in and explore the area before you get going in your new seat. Everything from travel to accommodation is taken care of by the firm and you are also given a monthly grant to take into account any extra living expenses.
At all of our secondment destinations, there will also be trainees from other firms on secondment and the predecessors at each firm pass the baton on to make sure you have a small community when you get there. Given this smaller setting while abroad you have a chance to make friends and equally this presents an excellent networking opportunity to build relationships at other firms for later on in your career.
Why go overseas
Apart from gaining wide training experience in a new jurisdiction, the chance to live abroad is an invaluable asset which will give you a different perspective and deeper appreciation of the differences in culture and approaches to business and legal practice.
In essence, this means you will not only be able to build solid relationships with colleagues in other offices and learn from their experience of working in different legal markets but you are likely to have even more client exposure in other jurisdictions which will truly broaden your skillset of managing client relationships on an international level, a portable asset which you can take with you as you progress through your training contract and beyond.