5 Minutes with Lavinia Harrington, Future Trainee
14th February 2017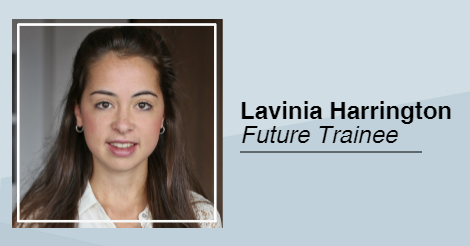 What University did you attend? Downing College, Cambridge
What subject are you studying? I studied Theology
When do you join as a trainee? I'll join in August 2018
How did you hear about Shearman & Sterling? I was aware of the firm from having spoken to friends and found out more about it using websites like Lex100.
What made you apply? I'd already spent a year working for a large professional services firm so I had quite clear ideas on what I did and didn't want from an employer. Shearman and Sterling is headquartered in the US so had the truly international feel that I was looking for. The small trainee intake was also appealing.
How did you approach the initial application form? I read a great booked called 'Tomorrow's Lawyers' by Richard Susskind which got me thinking about a few key issues that I went on to discuss on my application. I also did as much research as I could about the firm using the Cambridge career's service and Lex100. The Shearman twitter page also had links to useful material.
What made Shearman & Sterling different to other firms? I read lots of reviews of different firms and saw consistently positive information about Shearman. As I mentioned earlier, international experience is very important to me and Shearman stood out in that respect.
What made you accept? Although the assessment centre was an intense day I came away with a really good feeling. Trainees I spoke to said they felt like part of the firm from day 1. I also had a great experience with the recruitment team who were very supportive and friendly throughout. I already know I'd be able to go to them if a problem arose.
What advice would you give to others who are interested in Shearman & Sterling? I chose to focus my attention on the quality of my applications rather than quantity meaning I had the time to research the firm properly. A training contract is a huge investment of time so it's important to get a really good understanding of what makes each firm different before applying.
Share this: