5 Minutes with Future Trainee, Alex Leighton
13th March 2017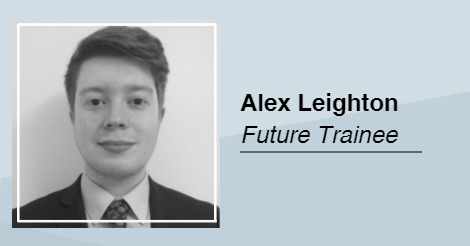 What University did you attend? I did my undergraduate at Durham University and I'm currently studying for my master's at the University of Cambridge (Robinson College).
What subject are you studying? Law (LLM).
When do you join as a trainee? I'll be joining in August 2018.
How did you hear about Shearman & Sterling? I first heard about Shearman & Sterling when I started to follow more legal and business news. The Firm was often mentioned in and on many different publications and websites – everything from The Lawyer to RollOnFriday!
What made you apply? After finishing my undergraduate degree, I spent some time working as a paralegal which helped me to confirm that I wanted to train as a solicitor. I'd already heard good things about Shearman & Sterling in the news, so it seemed like the next logical step was to do some more research about the Firm and give the application a shot! In short, the Firm's excellent reputation in its core practice areas made me apply, as did the positivity about the work culture and the possibility of doing a seat abroad.
How did you approach the initial application form? The importance of taking your time and making sure that you tailor the application to the firm you're applying to cannot be stressed enough, so I began by doing some thorough research. There's a multitude of sources online, such as the Firm's website, the specific graduate recruitment website (arguably the most useful resource to anyone applying) and various other sites such as Legal Cheek and Chambers Student. These gave me a detailed insight into the Firm, its work and what makes it stand out so as to be able to approach the form with confidence. I made sure to support my answers with reference to specific deals and facts, as well as my own experiences and reasons for wanting to work for Shearman & Sterling.
What made Shearman & Sterling different to other firms? It's not just a cliché – the culture at Shearman & Sterling really does make the Firm stand out, and I was lucky enough to see this first hand on one of the summer Vacation Schemes. Everyone was welcoming and helpful at all stages of the application process, and the Firm is genuinely interested in its staff as individuals! I also appreciated the smaller trainee intake and the opportunity to take on responsibility early in my career.
What made you accept? I really enjoyed the Vacation Scheme where I got a 'feel' for the Firm first hand, so I immediately accepted my offer! There's not enough space to write all of the reasons for accepting, so I'd summarise it as follows: the people, the culture, the opportunity to work on headline deals, the cookies.
What advice would you give to others who are interested in Shearman & Sterling? There are some brilliant resources on the graduate recruitment section of the website for those who are thinking of applying, and in particular I'd recommend the snapshots and webinars on the blog which explain the practice areas and how a typical deal runs. I'd also not be afraid by the concept of 'commercial awareness', and I found it useful to keep a small notebook where I could make details of news stories that interested me and where Shearman & Sterling were mentioned. Simply learning about how the industry works and having something to talk about on the application form and at interviews really goes a long way!
Share this: