5 minutes with future trainee, Tom Capper
31st March 2017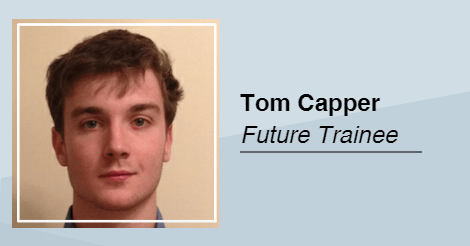 What University did you attend?
I studied Economics at the University of Warwick.
What subject are you studying?
Currently, I am completing the Graduate Diploma in Law (GDL) at the University of Law.
When do you join as a trainee?
I start in August 2018.
How did you hear about Shearman & Sterling?
I attended a campus presentation in my final year at Warwick given by various members of the graduate recruitment team and two trainees that was aimed at introducing students to the firm.
What made you apply?
Everything I learnt about the firm during this presentation made me want to apply. I could see myself working well with the people I met and I think that is especially important when choosing which firms to apply to. The small trainee intake was also crucial to me, as I wanted a culture where trainees are really valued and are given great responsibility.
The firm's attitude towards overseas seats also really encouraged me to apply. Some firms, whilst advertising that they have overseas seats available to trainees, do not necessarily actively encourage trainees to go abroad. However, it was made clear at the presentation that Shearman & Sterling regard overseas seats as a fantastic opportunity to develop their lawyers and for trainees to get a feel for the global nature of the firm and develop an international network.
How did you approach the initial application form?
I started my application immediately after the campus presentation so that all the things I had learnt about the firm were fresh in my mind. I made sure I had good answers to the application questions and that my writing was clear and concise.
What made Shearman & Sterling different to other firms?
I was impressed by the firm's reputation as an elite US firm with top practices ranging from International Arbitration to Project Development & Finance. In addition, the London office generates the majority of its own work, which is not common amongst many US firms in London. Furthermore, during my vacation scheme I saw that the firm had a truly open-door policy, which allows trainees to work closely with senior lawyers. Some trainees might be the only one in their department but they are given a huge amount of support from partners who invest time in their training and do it willingly.
What made you accept?
My experience on my vacation scheme was the main reason I accepted the training contract offer. The two weeks I spent in the firm reinforced all the reasons I had for applying in the first place. I also saw how collaborative the culture is and how there is a real 'team feel' at the firm. The deals that I was working on were huge and engaging and the trainees took a lot of time out to explain the background of the deals so that the work I did had some context. I really felt like I was being given a true taste for what life at the firm would be like.
What advice would you give to others who are interested in Shearman & Sterling?
Do your research. There is no such thing as too much research. If you can, go to a presentation or open day and talk to current trainees to give your application more substance. Find out what differentiates the firm from others and, more importantly, explain in your application form why that appeals to you specifically. Be sure not to just write a 'love letter' to the firm with a list of reasons why you want to join, but talk about how you can contribute to the firm. In essence, every sentence you write in your application should be specific to Shearman & Sterling. Most of all, be honest and be yourself.
Share this: