5 minutes with Chrisangelina Lo, future trainee
29th August 2017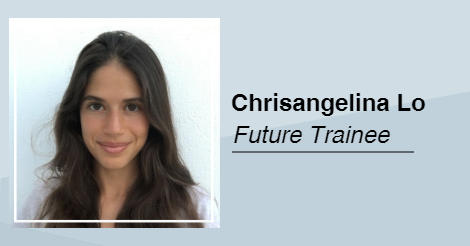 Q. What University did you attend?
A. University of Cambridge (St John's College)
Q. What subject are you studying?
A. I recently completed the GDL at the University of Law, having studied English for my undergraduate degree.
Q.When do you join as a trainee?
A. In August 2018
Q. How did you hear about Shearman & Sterling?
A. I first heard about Shearman & Sterling via word of mouth at the University of Law. Once I had been made aware of the firm, I noticed Shearman & Sterling made regular appearances in legal news as well as graduate recruitment websites.
Q. What made you apply?
A. It was a combination of factors. Before starting my applications I knew I wanted to work on global cases and have the opportunity to travel abroad during my training contract. Furthermore, I hoped for a personable environment where I would be given responsibility early on and be valued as an individual. Shearman & Sterling, with their international presence, relatively small London intake and excellent satisfaction scores on RollOnFriday definitely fit the bill.
Q. How did you approach the initial application form?
A. A lot of research – there really is no way around that! I read about the firm (using resources such as Shearman & Sterling's graduate recruitment website, Chambers Student etc.) as well as the environment they operate in. Doing that I was able to develop both a genuine understanding and interest in the firm's work, which I made sure to reflect in my application.
I made sure to tailor my application to me, showing that I was not only interested in Shearman & Sterling but that I would also make a good addition to their team. I gave examples of how my own experiences had prepared me for the type of work I would undertake as a trainee and later on as a lawyer.
Q. What made Shearman & Sterling different to other firms?
A. Law can often be a very male dominated field. When I began applying, I looked for a firm in which I could thrive long term as a woman. Shearman & Sterling offered that opportunity. I was very fortunate to attend Shearman & Sterling's 'Women in Law' conference in November where I got to meet with some amazing women from the firm, hear them speak and then discuss issues of advancement, visibility and work-life balance. Judging from this experience as well as recent awards and promotions of women at Shearman & Sterling, the firm stood out from others of the same calibre.
Q. Did you do a Vacation Scheme and if so, what did you learn/enjoy?
A. I did not do a Vacation scheme. I applied straight to Training Contract. While the vacation scheme will certainly help you get to know the firm better, if you missed the deadline, don't be discouraged from applying. Approximately half of my intake came from the straight to training contract route.
Q. What made you accept?
A. I am afraid I will fall in to clichés but the reason I accepted was the distinctly human culture of Shearman & Sterling. From the very first interview I was surprised by how much I was made to feel welcome. Even during the partner interview – an experience, which should have been daunting – I actually enjoyed the conversation and felt that the partners genuinely cared for what I had to say.
Q. What advice would you give to others who are interested in Shearman & Sterling?
A. Firstly: Really think about why you want to apply to Shearman & Sterling. When you are choosing a firm you will be working with for the foreseeable future you don't just want to focus on areas of expertise (other firms may also have excellent Finance teams). Make sure you look into distinguishing characteristics as well. The size, international presence and culture of the firm should be equally important in your choice. You can get a great feel of the firm by reading their blog or following them on social media. Think about whether and how the firm is suited to you – after all, the application process is a two-way-street.
Secondly: Make sure you tailor the application to you. Everyone can say they "love Department Of Choice ". You need to show that you understand the work you will be doing and demonstrate why you will be good at it. Think about what the work entails and draw from your experience, work or otherwise, to illustrate your suitability to the role.
Thirdly: Remember the devil is in the details. Do not forget to proof read and spell check. If you cannot be trusted with your application, how do you expect to be trusted with a multi-million dollar contract?
Share this: