5 minutes with Saloni Patel, Future Trainee
8th September 2017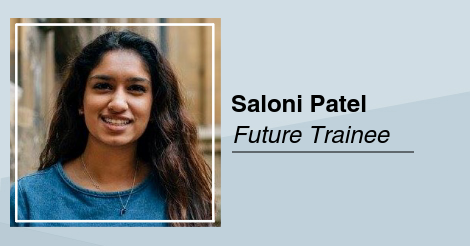 What University did you attend?
University of Oxford.
What subject are you studying?
I have just finished studying for an undergraduate degree in Law.
When do you join as a trainee?
August 2019.
How did you hear about Shearman & Sterling?
I first heard about Shearman during my first-year when I started looking for Open Day opportunities.
What made you apply?
Shearman stood out for me because of the international focus of their work. At the time that I made my application Shearman had recently opened an office in Dubai and were celebrating 50 years of operating throughout the Middle East. Experiencing different business practices is something that, I feel, provides a great learning opportunity. In particular, the breadth of their work in emerging economies was of key interest to me and projects in Mongolia and Indonesia alerted my attention. In emerging jurisdictions there may be limited legal infrastructure already in place; this gives you the scope to do innovative and flexible work, something that would prove stimulating for me.
How did you approach the initial application form?
I approached the initial application form by seeing it as a building block, as something that would inform future assessment. Therefore I chose the experiences I included, and points I wanted to make with careful consideration. Pick topics that give you lots of capacity to expand upon in an interview, and are genuinely enthusing for you to speak about. Also, I made sure that I substantiated every claim and did thorough research. The people assessing your form will be experts in their field - and on the firm - so hollow statements or random assertions will be seen through quickly. Finally, Shearman's application form is structured through open-ended questions, and this gives you a useful opportunity to express opinions. Approaching the initial application with a sense of voice will allow you to showcase your personality and make your form more engaging.
What made Shearman & Sterling different to other firms?
The relatively small size of the trainee intake was one of the first things that marked out this firm for me. I really wanted to find a firm where I would be given a lot of responsibility, and quickly. For me this also meant less anonymity and hence a more supportive culture. Further, the firm has a long history of 'firsts', setting precedents and having a flexible approach; it was this entrepreneurial dynamic that really distinguished Shearman.
Did you do a Vacation Scheme and if so, what did you learn/enjoy?
Doing a Vacation Scheme gave me a great insight into the culture of the firm. There is no better way to get the 'feel of a firm' than by working there. I learnt that the firm really did have a collegiate atmosphere. People at all levels made the time to speak to you, but also to each other, and this non-hierarchical structure was a very enjoyable environment to work in. Of particular significance was the fact that people were interested in you outside the framework of a legal career as well, and there was consciousness of life outside of work. This was something I really appreciated. All in all I learnt that Shearman was a firm I would enjoy working at in the future.
What made you accept?
Probably quite uniquely, one of my favourite parts of the process were the assessments during the Vacation Scheme. My interviewers created a very relaxed atmosphere and made me feel comfortable, so I actually enjoyed conversing with them, and had some really interesting discussions. Having such a positive experience at this final stage suggested that Shearman was a firm that I would be able to thrive at, and this made me accept.
What advice would you give to others who are interested in Shearman & Sterling?
Research is really important. Show your commitment to the firm by going further than website or pamphlet research and speak to people who have worked at the firm, or read publications by them. Everyone will peruse the graduate recruitment sites but finding additional sources of information can give you a useful extra insight. Podcasts are a good way of getting information easily and quickly. Ask lots of questions. At Shearman people at all levels of seniority - and from all areas of the business - will make time for you, and are interested in getting to know you. Try not to be daunted by these opportunities, and take advantage of them. Finding out about different career paths, motivations and experiences can really help inform your choices.
Finally, one of the best aspects of the firm is that there is no mould to fit. Shearman are receptive to a range of personalities so there is no better way to be, than to be yourself. Being authentic, self-aware and self-assured is the best advice I can give. Test this by seeing if you can summarise yourself in a couple of sentences. If you are clear about what your key attributes are you will find it so much easier to convince others of them.
Share this: