5 minutes with James Ballantyne, future trainee
30th October 2017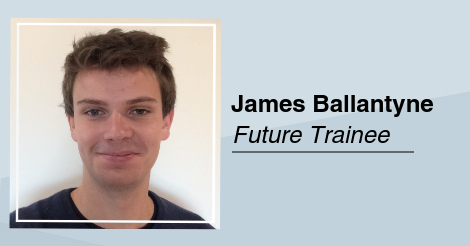 What University did you attend?
At undergraduate I attended the University of Cambridge (Girton College) and at postgraduate I attended the University of London (School of Oriental and African Studies).
What subject are you studying?
The LPC.
When do you join as a trainee?
I join in August 2018.
How did you hear about Shearman & Sterling?
I first heard about Shearman & Sterling through research in the legal press (The Lawyer, Chambers Student, Legal Cheek) about firms with smaller intakes.
What made you apply?
The firm had the qualities I was looking for: it had a small intake of trainees; conducted high-profile, international work and offered exciting secondments abroad. It was also very well reviewed online by current and former trainees who noted high levels of satisfaction with their work, their development and the culture at the firm. But perhaps most important was the feedback I got from lawyers (not associated with the firm) I spoke to informally. They reinforced that Shearman & Sterling had a distinctive, supportive culture and a reputation as an excellent place to work as a trainee.
How did you approach the initial application form?
I researched the firm thoroughly, both on its website and in the legal press. I tried to develop a rounded picture of the firm – its place in the market, the type of work it was involved in and the type of work I would be expected to do as a trainee. (I remember finding the Shearman & Sterling Graduate Recruitment webinars and blog particularly helpful in providing a flavour of the kind of work you would do as a trainee at the firm.) Then I thought about how I would fit into the firm and the qualities it was important I emphasised. I tried to ensure my application demonstrated those attributes wherever possible.
What made Shearman & Sterling different to other firms?
My pre-application advice was not amiss. The culture of the firm was definitely distinctive. From my first interview I was struck by how personable and interesting everyone I met at the firm was. I was made to feel at ease at all times. Moreover, there seemed to be a genuine interest in finding out about me as an individual. Beyond law, there was a determination to discover what I was like personally and my wider academic interests. This wasn't something I had experienced before at a law firm.
Did you do a Vacation Scheme and if so, what did you learn/enjoy?
I did not do a Vacation Scheme. I applied directly for a training contract.
What made you accept?
I remember leaving the assessment centre thinking this is definitely the firm I want to train at. I liked everyone I had met and I had thoroughly enjoyed the process. It was typified by my final interview in which we not only debated my niche dissertation topic (ethnicity in western Tanzania) but also discussed my favourite book and genre of music. I left feeling engaged and valued as an individual. Shearman & Sterling, beyond top-quality work and an international emphasis, had a culture I really liked.
What advice would you give to others who are interested in Shearman & Sterling?
Pre-application make sure that your research is as thorough as possible. Take advantage of any opportunity to learn more about the firm and what makes it different. This will mark you out as well-prepared and invested in the firm. Equally treat your application like a graded essay. In the same way grammatical and stylistic mistakes will undermine an essay, it will also compromise your application. Once at interview/assessment centre the best advice I got was from a current trainee at the firm. It was simple but very useful. Be confident! You have been invited because your application is interesting and demonstrates your potential. Enjoy the opportunity to discuss your achievements and legal and commercial topics with lawyers at the top of their field. It's a valuable experience if nothing else and one you want to leave having put your personality, and points, across.
Share this: