5 minutes with Persis Bhalla, future trainee
14th November 2017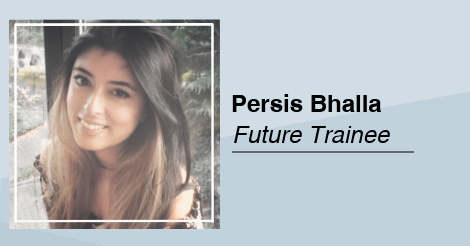 What University did you attend?
University of Oxford (Trinity College).
What subject are you studying?
I recently completed the GDL at the University of Law, having previously studied Philosophy & Theology for my undergraduate degree.
When do you join as a trainee?
I join the firm in August 2019.
How did you hear about Shearman & Sterling?
I first heard about the reputation of Shearman & Sterling through word of mouth when studying at Oxford University, before then researching the firm myself.
What made you apply?
Firstly, I wanted a firm with a small trainee intake; I wanted responsibility at an early stage without compromising on high quality work. Secondly, I wanted a firm with a highly personable environment, where I would be valued as an individual and not a number. Shearman seemed the perfect fit.
How did you approach the initial application form?
Research! I found the Shearman & Sterling Recruitment webinars and blog quite useful in offering a picture of the sort of work trainees undertake at the firm. It is vital that you clearly express the basis of your genuine interest in Shearman & Sterling. Avoid generic, sweeping statements that are applicable to any firm. Looking at recent deals and conveying why they interest you is one way to do this.
It is also important to demonstrate why you would make a good addition to the firm. I made sure to include examples of how my own experiences have helped to shape and prepare me for work as a trainee at Shearman.
What made Shearman & Sterling different to other firms?
The culture at Shearman & Sterling definitely stood out to me. Unlike the work experience I had done at other firms, I was never made to feel like a burden at Shearman. On the Vacation Scheme, I felt as though my opinion was truly valued and appreciated.
Furthermore, on a more personal level, despite being unsuccessful in securing a place on the 2015 Vacation Schemes, I remained in contact with the firm and was encouraged to re-apply. I had an extremely positive experience with Shearman which cemented my interest in becoming part of the team.
Did you do a Vacation Scheme and if so, what did you learn/enjoy?
I originally applied for one of Shearman & Sterling's 2015 Vacation Schemes. Despite being unsuccessful in securing a place on the Scheme, the firm did offer me work experience – something which other firms rarely do! The work experience proved extremely helpful in aiding my understanding of how a law firm operates as a business. I remained in contact with Shearman following this work experience, continuing to build on the relations I had made.
I then applied for the Winter Vacation Scheme 2016 and was, this time, successful. Whilst on the Vacation Scheme, I felt as though I was part of the team. Everyone was extremely welcoming and friendly. The work I was given was challenging and varied; this was important as it drew attention to the wide range of possible tasks trainees at Shearman might undertake.
What made you accept?
The two weeks I spent at Shearman & Sterling during the Vacation Scheme reinforced my reasons for applying. I was exposed to cross-border transactional work, all of which was explained to me in detail so that I understood the various contexts. The socials were attended by trainees and associates, providing a great opportunity to talk informally about life at Shearman. All in all, my experience with the firm had been thoroughly enjoyable, making me keen to accept my offer.
What advice would you give to others who are interested in Shearman & Sterling?
The importance of researching the firm cannot be stressed enough. Try to identify and draw on its distinguishing features, global presence and culture. It is also crucial to ask yourself whether the firm could be the right place for you; if it is, demonstrate this with reasons and examples.
I would also encourage anyone thinking of applying to Shearman & Sterling to apply for one of the Vacation Schemes. Not only will it be enjoyable, but it will also give you a unique insight into life at the firm and your possible future within it.
Share this: