5 minutes with Dan Senior, future trainee
4th December 2017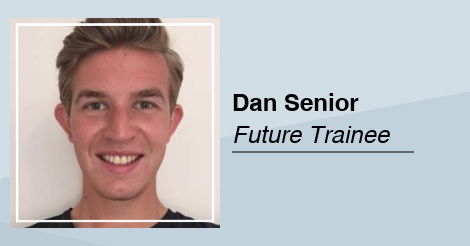 What University did you attend?
I attended Durham University.
What subject are you studying?
I'm currently doing the GDL at the University of Law, Moorgate. I studied Politics at undergraduate level.
When do you join as a trainee?
I join in August 2019.
How did you hear about Shearman & Sterling?
Initially it was through graduate recruitment websites but my real interest in the firm developed after attending a Shearman & Sterling talk at my university.
What made you apply?
I was particularly interested in Shearman & Sterling due to the calibre of work and the international opportunities. The firm conducts top-tier financial work in the European centre of deal activity and, more importantly, trainees are given great exposure to it. With over 20 offices its international reach was also a contributing factor. The prospect of doing a seat abroad is an appealing one, so we'll see what happens!
How did you approach the initial application form?
I tailored my responses to the application form questions as much as possible. It is certainly true that blanket legal applications are useless. I really thought about the questions asked of me, and how my answers could convey both my interest in and suitability to the firm.
What made Shearman & Sterling different to other firms?
I knew I wanted to work for a leading US firm in London and Shearman & Sterling was therefore an obvious choice. It is relatively unique within that category due to its presence in London for over 4 decades and its ability to generate the majority of its own work. Furthermore, after spending 2 weeks at the firm I could genuinely see myself fulfilling career ambitions there. The level of responsibility and assistance that we were provided with made the firm and the people stand out in my eyes.
Did you do a Vacation Scheme and if so, what did you learn/enjoy?
I did, yes, in December 2016. It was my first vacation scheme and I learnt a lot! I worked in the Finance and International Arbitration teams, which provided focused insight into what sort of tasks a trainee would undertake in those respective departments. More generally, just spending time around Shearman & Sterling employees of all levels of seniority truly enhanced my understanding of the corporate world. The social aspect of it was also great. There were ten on the scheme and we all gelled well, especially during the several social activities put on for us by the recruitment team.
What made you accept?
The vacation scheme experience was central to my decision. We were given interesting work, assisted where necessary and our contributions were genuinely valued – the entire office environment was enjoyable. I think the size of the intake allows this sort of assimilation into the firm. I was also hugely impressed with the level of partner involvement in the selection process. These things assured me that I would receive fantastic training at Shearman & Sterling.
What advice would you give to others who are interested in Shearman & Sterling?
Firstly, go to the firm's talks when they come to your university. Not only is it a chance to meet some of the recruitment team and trainees, but you will also get valuable application tips. Secondly, take the time to make your application perfect. It sounds obvious but with the volume of applications that the firm receives, if you make spelling errors your chance is gone. And, finally, convey to the reader what you can offer; why does your skillset suit the work and how will your personality fit the culture?
by Dan Senior, future trainee
Share this: