A Secondment to Abu Dhabi: 5 highlights
6th July 2018
I think it's fair to say that every City law firm says it offers international opportunities but what that actually means in practice for trainees can be a little hard to understand.
I'm going to give you some insight into what actually happens when you do an international seat during your training contract, the benefits and the differences you'll find.
For the past 4 month, I've been on secondment to our Abu Dhabi office.
For background, our Abu Dhabi office is smaller than London (London and New York being our two biggest offices), with Mergers & Acquisitions (M&A), Project Development & Finance (PDF) and International Arbitration (IA) the three teams that sit there with around 25 lawyers in the office.
Shearman has had an office in the UAE for over 40 years and has played an influential role in the development of the county, from creating Abu Dhabi National Oil Company (ADNOC) to establishing the Abu Dhabi Global Market as an international financial centre.
Shearman has two trainees based in Abu Dhabi in each seat rotation - with one working on the disputes side and the other working on the transactional side. In order to give you a flavour of my first four months in the desert, I thought I would pick out 5 highlights and benefits to being on secondment that I have already seen.
1. More Responsibility
It is a simple fact that in a smaller office and smaller teams you are required to step up as a trainee and you are naturally given a lot more responsibility. This extra responsibility was illustrated within my first week in Abu Dhabi where I was thrown into the deep end of a signing of a $1bn + financing working with my supervisor and a junior associate in London. Working through the night, I was being rung by senior people at the client for confirmation on various points of the documentation and various signing formalities. This extra responsibility also translates into the opportunity to be very client facing, having attended multiple meetings in Dubai, Sharjah and Abu Dhabi as well as Cairo (more on that later…).
I would be lying if I said that this extra responsibility wasn't at times stressful, or hard, but equally the developmental rewards of going through it make it worth it as it can only make you a better lawyer in the long run. Shearman also has a culture that is very blame free and supportive, so whilst you may be stressed, there is always someone to turn to for help and advice. The nature of the office being so small means that everyone becomes very friendly very quickly so you have no issues turning to your colleagues for advice.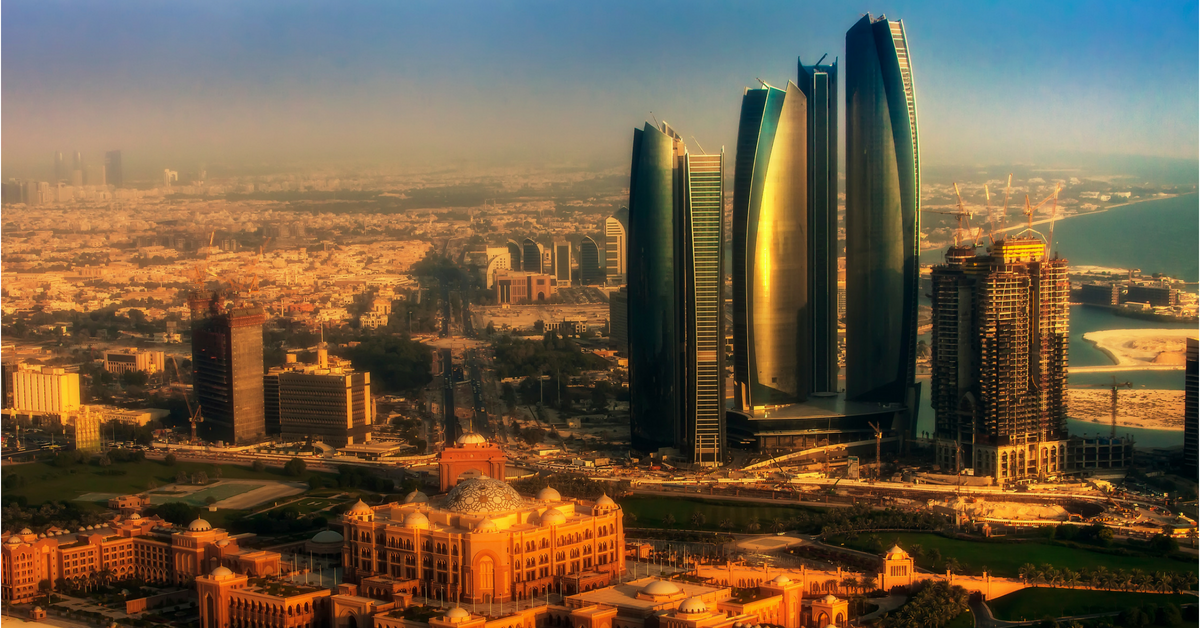 2. Variety of Work
As I mentioned in the introduction I have been working across two departments and getting involved in a variety of work, from private equity M&A work, the 'once in a generation' ADNOC Offshore concessions, a renewable energy project and an independent water desalination project.
Whilst there is variety of work within the Shearman London office, it has been even more pronounced within the Middle East. I have particularly enjoyed the hybrid nature of the Oil & Gas M&A/PDF work out in the Middle East, especially the ADNOC Concessions. These were particularly interesting as the signing deadlines were non-negotiable, to coincide with state visits by various heads of State and signed in front of the Crown Prince of Abu Dhabi.
3. Events
Another highlight of my time in Abu Dhabi is the various client events that even as a trainee I have been able to go to. We have hosted two different client events in Dubai and the firm has been very proactive in encouraging us to the point of almost requiring us as trainees to attend these events and to network with clients and prospective clients (helped along by a glass of champagne).
Another big event we were able to attend was the Legal Week Middle East Legal Awards dinner at the Ritz Carlton in Dubai, a black tie event with the who's who of the Middle East legal market in attendance. This event consisted of a champagne reception, a three course meal and drinks after dinner – a great way to blow off some steam and meet some of the people we have been working with and against on different deals.
I think the emphasis on encouraging me, as a trainee, to not only go to these events as someone to hand out badges but also to network and to speak to clients shows the value Shearman place in their trainees. This, combined with an invite to the Legal Awards as a thank you for my hard work, has been another highlight of the secondment.
4. Trainee Network
Another great plus point of going on secondment has been the trainee network that you meet whilst out there. Before you go away, the current trainees at your firm add you to an email chain with all the trainees who will be heading out for the next seat change.
This network quickly becomes a ready-made friendship group, with drinks, brunches (an Abu Dhabi staple of bottomless cocktails and all you can eat food) and holidays quickly planned. Without coming across too clinical about people who are friends – the other trainees also become part of your professional network and I am even working on deals opposite some of them already.
These people will continue to progress in their career at the same rate as you do and eventually they will potentially become clients. However, that is far in the future, and in the short term a real highlight has been making some new close friends.
5. International Travel
Another enjoyable part of being on secondment has been the chance to travel, both for work and soon for pleasure. I was lucky to be back in London for the PDF EMEA retreat which not only gave me the chance to meet some of the London team I have been working closely with in a more relaxed setting as well as learn more about the direction of the group and the firm as a whole.
Speaking to my trainee friends out here, it seems rare that trainees at other firms are given the opportunity to go on these retreats, and again this has made me realise how valued you feel as a trainee at Shearman.
Another highlight of the secondment has been a business trip to Cairo. I got told on a Friday that I needed to fly to Cairo the next day to be there for meetings the following week. These meetings were a fantastic opportunity to be involved in face to face negotiations with the other side.
Again, this shows the value and responsibility Shearman gives their trainees, and I also managed to get a quick trip to the pyramids as well in between turning the documents overnight. Being in the Middle East also works as a perfect springboard for personal travel as well, with India, Sri Lanka, Oman and Bahrain all just a short flight away and all on the bucket list to visit.
Conclusion - Abu Dhabi Secondment
Going on secondment is, at first, a daunting prospect, but as you will see from a few of the highlights outlined above, it gives you great opportunities on both a personal and professional level. For the reasons I have outlined above, the secondment opportunities a law firm offers is really something that I would encourage anyone looking at a career in law to consider carefully when selecting where to apply.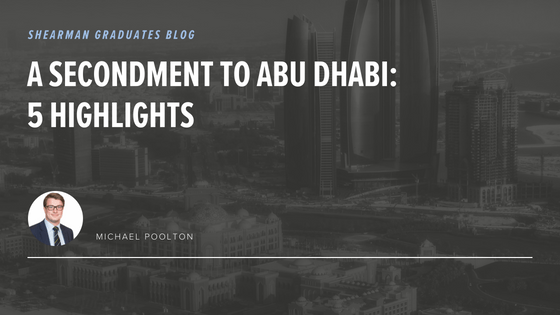 Share this: