5 Reasons Why Theology Students Make Good Lawyers
17th December 2018
I studied an undergraduate degree in Theology before starting my training contract at Shearman & Sterling.
Like many Theology students, I wasn't sure how relevant my degree would be to a career in commercial law. Having now started my training contract, I realise my Theology degree prepared me well for the application process and for life as a trainee.
Below, I have listed 5 key reasons why Theology students make good lawyers:
1. Not Having All the Information
Completing a piece of work without all the information you need is an essential skill. Busy lawyers don't always have time to give you a detailed briefing. My Theology degree provided valuable training on how to find a solution with limited instructions.
In second year, I took a paper titled Introduction to Islam. I was supervised by a world renowned Islamic scholar with little interest in undergraduates. As a result, he gave minimal instructions for essays and never responded to email.
On one occasion I was asked to comment on a text written in Quranic Arabic. Cambridge has a lot of libraries and after an extensive search I found a German translation of the text.
Unfortunately, I can't speak German. I ended up sourcing a commentary through a friend at a London university and managed to form a view in time for the supervision. (When I mentioned the difficulties I'd had finding the original text, the Professor said he was sure the University Library had a French translation of it …)
2. Less Is More
Lawyers are in the business of serving clients. Legal advice should be user friendly and free from legal jargon, where possible. Writing weekly essays at university trained me to be clear and succinct in my communication and to avoid unnecessarily embellished language.
It's a skill I use all the time and one that I am still developing. For example, I recently drafted a letter to the Stamp Office. I had to explain the facts of a complicated M&A transaction in such a way that a team of non-lawyers could understand it.
The ability to write with precision was also useful for my Shearman application. It allowed me to use the limited word count more effectively. A good tip is to check every word on your application. Cut those that don't need to be there because they don't add anything to the sentence.
3. The Discipline of Compartmentalising Work
I chose Theology because it offered a breadth of modules: Philosophy, Modern Judaism, New Religious Movements, Moral Themes in European Literature and even a language paper in Ancient Greek, to name a few.
At any one time I was studying several different eras and cultures. I didn't realise how useful this experience would be until I started my training contract in Tax. A seat characterised by the volume of different matters which can arise in one day.
It is not uncommon for my team to have worked on a Finance matter, an M&A deal and a Project Finance matter by lunchtime. I practice the discipline of compartmentalising work and managing my time effectively, which I learnt doing Theology, on a daily basis at Shearman.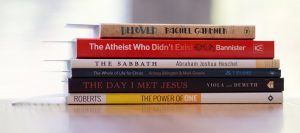 4. Conducting Difficult Research
Legal research is an inevitable trainee task. You will often be asked to complete it with a tight deadline.
There are no Theology textbooks so my degree was a three year boot camp in how to conduct research effectively and efficiently.
As part of my current seat I present tax updates at a monthly team meeting. The updates can be dense and lengthy. Having a structured approach to research has saved me time which I have been able to put towards improving my presentation skills.
Theology and Philosophy students will empathise with the frustration of searching several musty libraries for a book that might not even be there.
In many ways legal research is much easier; A significant amount of material can be accessed through online data bases such as Westlaw or Lexis Library. This means you can usually find what you need from the comfort of your desk.
If you can find material for an essay titled "Scientologists love Money. True or False", you are already well placed for conducting legal research.
5. "The End is Nigh. Discuss."
There is nothing earth shattering about telling lawyers that you studied Law.
Theology, on the other hand, is regularly considered to be the edgy cousin of the Humanities family. It always elicits an "ooh" and a few questions.
Doing a degree uncommon amongst fellow applicants or colleagues serves well to differentiate you. A large proportion of my partner interview was spent discussing my degree. This was something that I could talk about with confidence and therefore an easier way to present myself as an articulate candidate.
Plus, if I'm in need of a good anecdote, I can wheel out the story of how I finished my finals by answering the last question on the paper: "The End is Nigh. Discuss".
Summary
Before I applied to Shearman I had assumed that law firms favoured candidates with a Law degree. This is not the case as evidenced by my trainee cohort, half of whom did non Law degrees. If you are a Theology student, or have any other non Law background, you are likely to be developing skills which could help make you a great lawyer.
by Lavinia Harrington
Share this: