5 Minutes with Future Trainee – Natasha Lindon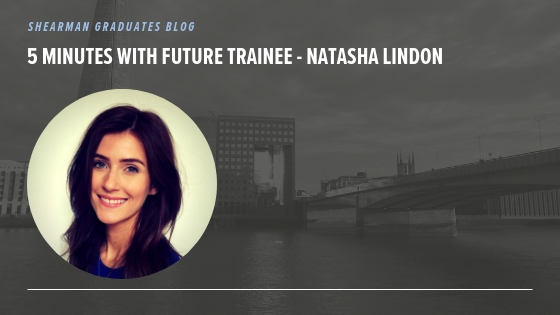 Q. What University did you attend?
University of Bristol.
Q. What subject did you study?
I studied LLB Law, and I start the LPC at the University of Law in September 2019.
Q. When do you join as a trainee?
I will join Shearman & Sterling in August 2020.
Q. How did you hear about Shearman & Sterling?
I first heard about the firm during an internship at Ford Motor Company. Shearman & Sterling were mentioned in a wealth of news articles for providing key legal advice to Ford over many years, ranging from historical events such as its IPO, to present day litigation actions. I was intrigued to explore Shearman & Sterling's training contract opportunities as I was impressed by this long-standing client relationship.
Q. What made you apply?
It was important to me that I begin my career at a firm with a profound global jurisdictional expertise, as this would provide the most expansive training. Shearman & Sterling has an outstanding reputation in transactional practice areas, as well as a collaborative and nurturing working environment. I also valued the chance that Shearman & Sterling offer its trainees to gain work experience in an office overseas.
Q. How did you approach the initial application form?
When applying to Shearman & Sterling, I researched as much as possible in order to learn about its practice areas, bespoke expertise and market position.
I tailored my answers by harnessing my research to provide an insightful angle, whilst also linking in my own work experience and relevant interests.
I think you can begin to tell as early as the initial application stage whether a firm is a good fit for you. There are lots of resources to support your application online, and I found the Shearman & Sterling Graduate Recruitment blog posts and videos a very helpful starting point.
Q. What made Shearman & Sterling different to other firms?
In terms of the assessment process, I was put at ease during my interviews at Shearman & Sterling because the partners were genuinely interested in my thoughts and contributions to discussions.
Despite being an elite law firm, it didn't have a 'stuffy' feel.
The lawyers I met were willing to share their passion for the law and their expertise, and also had a great sense of humour. Unlike other firms, Shearman & Sterling's recruitment process does not feature quantitative psychometric testing, therefore each applicant is considered based on what they have worked for and their overall fit with the firm. I believe this is testament to the fact that Shearman & Sterling appreciates each trainee for the individual strengths they bring.
Q. Did you do a Vacation Scheme and if so, what did you learn/enjoy?
I attended a Vacation Scheme at Shearman & Sterling in March 2018.
During the two weeks, I rotated between Financial Institutions Advisory and Mergers & Acquisitions. The associates and mentors were very welcoming and spent time explaining the deals they were working on and encouraged me to ask any questions.
The Graduate Recruitment team also organised a variety of great socials, from cooking classes to beer pong, which helped us network in a more relaxed environment. All of this made the Vacation Scheme and interview process a lot less daunting and I would wholly recommend it as the best way to learn more about Shearman & Sterling.
Q. What made you accept?
I knew from the working culture of the firm and its headline deals that the work would be challenging, as well as extremely rewarding and stimulating.
I thoroughly enjoyed my two weeks at Shearman & Sterling and I was delighted to receive and accept an offer. I am looking forward to learning first-hand from the pragmatism and passion that Shearman lawyers deliver in their provision of legal services. Plus, of course, Shearman & Sterling's cookies are renowned for being the best in the City!
Q. What advice would you give to others who are interested in Shearman & Sterling?
For anyone interested in applying, I would recommend starting your application from scratch to ensure that it is tailored specifically to Shearman & Sterling. Networking at campus events is an excellent way to find out more about life at the firm.
If your answers are meticulously researched, you have supported any assertions you make with evidence and you know why you are interested in commercial law, then you are on the right track!