All the latest views and news here
5 minutes with Soraya George, Future Trainee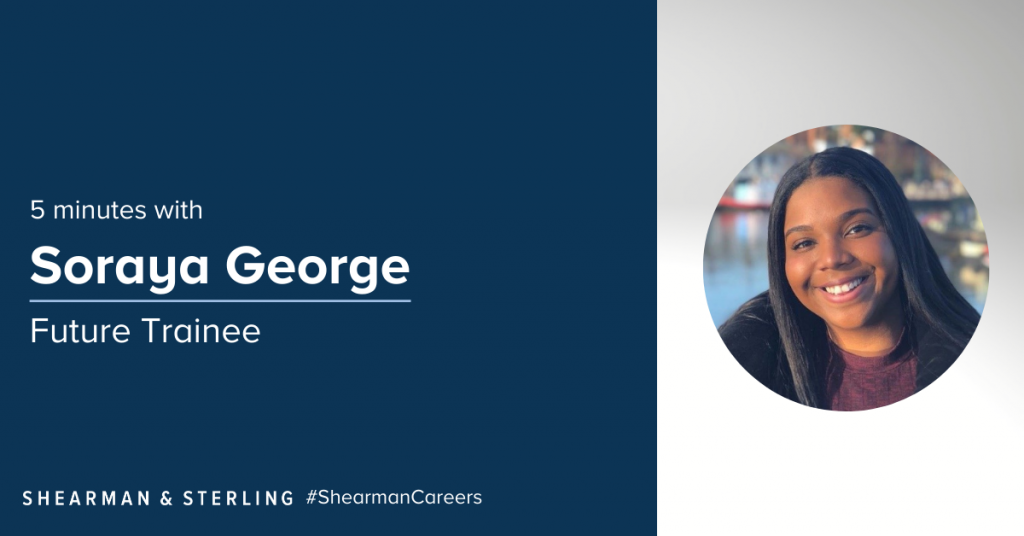 What University did you attend?
University of Cambridge
What subject are you studying?
I am currently studying the GDL at the University of Law, having previously graduated from Land Economy at Cambridge.
When do you join as a trainee?
September 2023.
How did you hear about Shearman & Sterling?
I first came across Shearman & Sterling at an on-campus presentation. Then, when researching more about the legal sector and training contracts I found the firm's extensive resources on their UK Graduates website incredibly useful. Having so much practical advice on the application process, as well as on the firm made me feel more confident in applying for a vacation scheme.
What made you apply?
I decided to apply to Shearman & Sterling as I specifically wanted to experience a truly international firm- both in terms of the matters worked on from the London office as well as international secondment opportunities. Due to the fact the firm encourages high levels of responsibility at the trainee level, I was excited by the chance to work with international teams on an almost daily basis on some of the most complex legal matters, with the option to spend 6 months in either New York, Abu Dhabi, Brussels or Singapore!
The culture is also a major factor as the firm actively encourages collaboration and a supportive working environment. The smaller trainee intake allows for trainees over both years to get to know each other more quickly, and there are plenty of social events in all teams to balance work and play.
How did you approach the initial application form?
When approaching the application form, I took time to research the legal sector and the firm to fully understand how the training experience Shearman offers aligns with my interests and personal preferences. This included optional vs mandatory seats, its global reach and opportunities with the firm other than work, such as diversity and inclusion events. I also found it useful to research competitor firms as this helped me to highlight what exactly attracts me to Shearman which made my responses clearer and more structured.
Finally, I reflected on my own personal achievements and experiences to identify the "soft" and transferrable skills that I could use to showcase my suitability for a legal career.
What made Shearman & Sterling different to other firms?
Shearman & Sterling is different to many of its competitors as it offers a broad range of professional experience during the training contract. For me, I appreciate the opportunity to work on matters in both developed and emerging markets through its leading practice areas such as M&A and PDF. Similarly, it is rare that global elite firms have expertise in both transactional and contentious matters. Therefore, it is great if, like me, you have little idea of what area of law you wish to specialise in. At Shearman, you can split your training rotations between their prestigious contentious teams like International Arbitration, as well as globally leading corporate/financial seats!
Did you do a Vacation Scheme and if so, what did you learn/enjoy?
I did Shearman's Spring Vacation Scheme virtually last March (2021). The scheme looked a little different due to being online, but I was still able to learn a significant amount. In particular, I learnt about all of the firm's main practice areas and how they overlap in complex deals, as well as the different risks and challenges that come from operating on a global scale. I also really enjoyed being introduced to the firm's different Diversity and Inclusion initiatives, and pro bono opportunities both locally and on an international level!
What made you accept?
The impression I got from the Vacation Scheme was really positive! Even during the assessments, it was clear that the people at the firm wanted to get to know me as an individual and went out of their way to make me feel comfortable. At one point, I had more questions despite the meeting coming to an end, but the senior lawyers ensured that they phoned me individually another time to answer them- despite their very busy schedules! Finally, Shearman & Sterling are actively trying to increase diversity within the firm and wider legal sector. From their Women in Law conference to their BLAQUE network, I wanted to be part of a firm which obviously cares about inclusion and representation.
What advice would you give to others who are interested in Shearman & Sterling?
Start to build commercial awareness as early as possible as this forms an important component of both the Vacation Scheme interview, and the training contract assessments. Start by keeping on top of commercial news, ensuring you understand the key business and financial terms. Then use online resources (such as those on the Shearman Graduate Recruitment blog!) to get a better understanding of what areas such as M&A, banking and insolvency consist of from a legal perspective.
Don't worry if you haven't got any specific legal experience at the time of applying for the vacation scheme. Instead, think about the transferable skills from other positions of leadership or responsibility, or things you have learnt from internships in other sectors which can prove useful in commercial law.
Finally, don't be intimidated and just apply! It can be easy to think your chances of getting a vacation scheme, let alone a training contract, with a leading US law firm is nearly impossible but if you don't apply, you definitely won't be successful!