Open Day
For state school educated students
Open day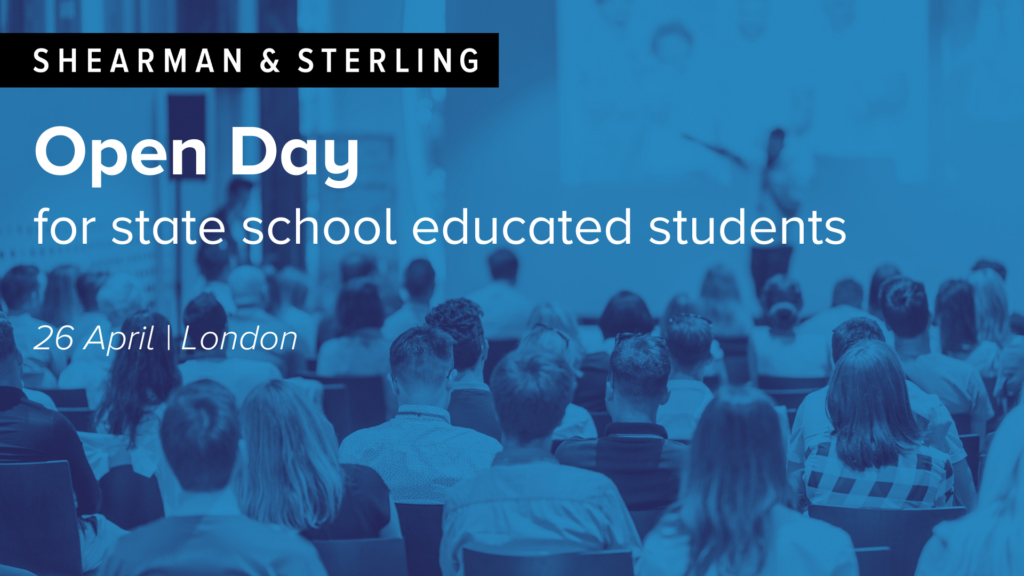 This year we are running an open day specifically for state school educated students. The open day will take place on the following date:
26 April 2023 (deadline midnight, 9 April 2023)
Open days at Shearman & Sterling are great for candidates who are still researching their legal careers and this open day will specifically address some of the issues and obstacles facing state-school students looking to enter the legal profession.
The open day will include a range of informative sessions, including:
An overview of the firm and our place in the legal market;
An introduction to our core trainee practice areas – M&A, Finance and Project Development & Finance;
The legal industry and state school representation;
A panel Q&A session with our trainees who attended state school so you can ask your burning questions regarding overseas seats, support throughout your training contract and what the work is really like;
An interactive workshop from the graduate recruitment team providing hints and tips on application forms and interviews; and
Why you should have the confidence to apply as a state school educated student.
Candidates do have to apply for the open days as there are limited spaces, though it is not an arduous process and should be good practise before attempting the all important vacation scheme applications!  Many of our open day attendees go on to successfully gain places on our vacation schemes and become our future trainees.
Eligibility
To be considered for this open day we ask that:
You have attended a non fee paying state school between the ages of 11-18
You are a current undergraduate student or graduate
You have an interest in a career in commercial law
For your chance to join us