All the latest views and news here
5 minutes with Cerys Jenkins, Future Trainee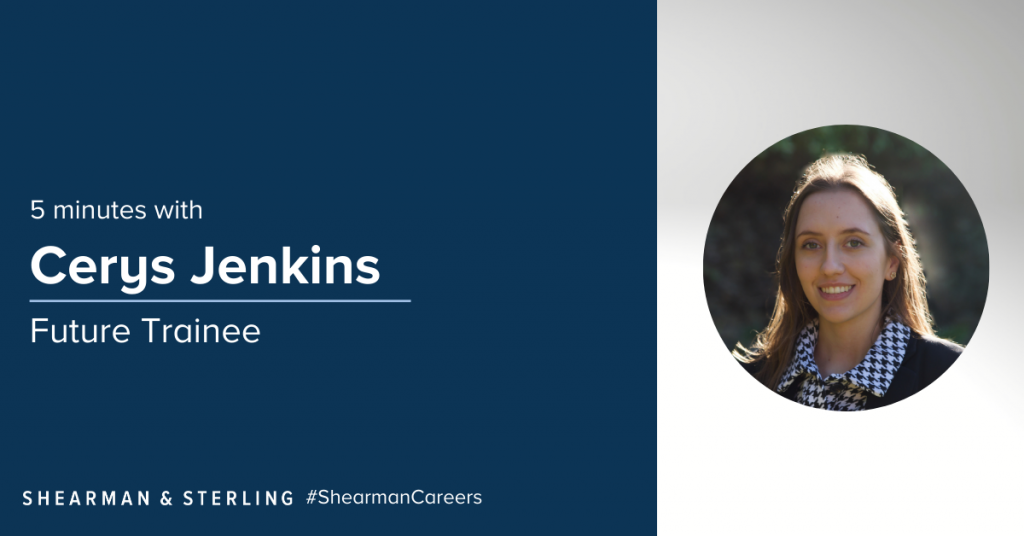 What University did you attend?
Durham University
What subject are you studying?
I am currently studying the LPC at the University of Law, Moorgate. Last year I completed the GDL at the University of Law, Bloomsbury, having studied English Literature for my undergraduate degree.
When do you join as a trainee?
I will be joining as a trainee in August 2022.
How did you hear about Shearman & Sterling?
I heard about Shearman & Sterling through the Durham University Law Society, which was advertising the Head Start Scheme. I got a place on the Head Start Scheme in my second year of university, and following that, decided to apply for a Vacation Scheme.
What made you apply?
The Head Start Scheme emphasised the complex and innovative nature of the work undertaken at Shearman & Sterling, which I felt would be challenging but highly rewarding. Along with this, Shearman & Sterling's long-standing presence in London has enabled it to build a well-established and well-structured Training Contract, so I knew that I'd gain a really high standard of training should I be accepted.
Furthermore, I knew I wanted to train at a firm that took on a smaller number of trainees, to take advantage of both the higher level of responsibility that this would allow me, and the supportive atmosphere that a tight-knit, collegiate environment creates.
How did you approach the initial application form?
The application process at Shearman & Sterling differs from many other law firms in that the application form is the only stage that precedes the Vacation Scheme interview. With this in mind, I spent a lot of time making sure that my application was well-researched and highly specific to Shearman & Sterling.
I found that Shearman & Sterling's client and graduate-facing websites were helpful places to start finding out more about the firm's key practice areas, the main industries in which they operate, and any particular high-profile deals that interested me. It was also interesting to see how Shearman & Sterling was marketing itself to potential clients, as this gave me an idea of how the firm differentiates itself from its competitors.
Proofreading is also a really important part of the application form – one of the key tasks for a trainee solicitor is document review, so one typo can be the difference between whether or not your application will progress!
What made Shearman & Sterling different to other firms?
What set Shearman & Sterling apart for me was the fact that it offers both an extremely high quality of work and a collaborative and friendly atmosphere. Shearman & Sterling consistently performs exceptionally well in the RollonFriday 'Firm of the Year' awards, which measures how happy lawyers are with their respective law firms. This confirmed what I had picked up on, and been told, in my own interactions with the firm, and was a key factor in my decision to apply.
Did you do a Vacation Scheme and if so, what did you learn/enjoy?
I had a place on the Spring 2020 Vacation Scheme; however, this unfortunately coincided with the first wave of the coronavirus pandemic. As a result, I, along with most of my cohort, did a virtual assessment centre later on in the year. Despite the uncertainty created by covid, Shearman & Sterling made sure to keep us informed about how the pandemic was affecting the firm generally, as well as scheduling regular Zoom calls to talk through the assessment centre and answer any questions that we had. By the time the assessment centre came round, I felt that I'd had ample interaction with the firm, and didn't feel disadvantaged by the fact that the experience was virtual.
What made you accept?
As well as all the reasons I've mentioned above, one of the deciding factors in accepting my offer was how personalised the recruitment process was. All of my interviews felt more like a two-way conversation in which my views were actively listened to. Furthermore, small details such as a member of Graduate Recruitment popping in to each of my virtual interviews to ensure that the technology was working properly were greatly appreciated, and made me feel comfortable and supported throughout.
What advice would you give to others who are interested in Shearman & Sterling?
I would definitely advise any potential applicants to interact with the firm before applying, whether that's by attending an Open Day, the Head Start Scheme, or an on-campus presentation. As well as giving an insight into the nature of the work and culture at Shearman & Sterling, they are a great way to find out whether the firm fits your own criteria!
In terms of commercial awareness, it's a good idea to have in mind a few current commercial news stories that you have researched and can voice an opinion on. At interview, anyone can recite a headline, but you will stand out if you have done in-depth market research and are able to offer an analysis of the issues at hand – this will also lead to a more engaging, two-way conversation with your interviewers.
Finally, the interviews are naturally nerve-wracking, but they are also an opportunity to show your personality and that you would be a good addition to the firm, so try to relax and be confident in yourself!